Sunday, September 29, 2013 at 4:37PM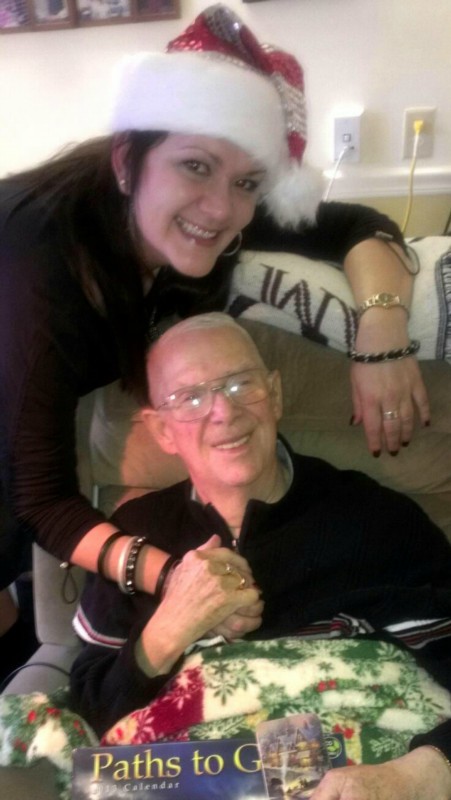 Here's a pic of me and the only grandpa left and I, at his 'home' in Goshen IN, obviously taken at Christmas last year. Got some of my drive and determination through his genes as he just keeps getting better and better, in his mid 80's! I hope to tell you the same about me VERY soon, as well.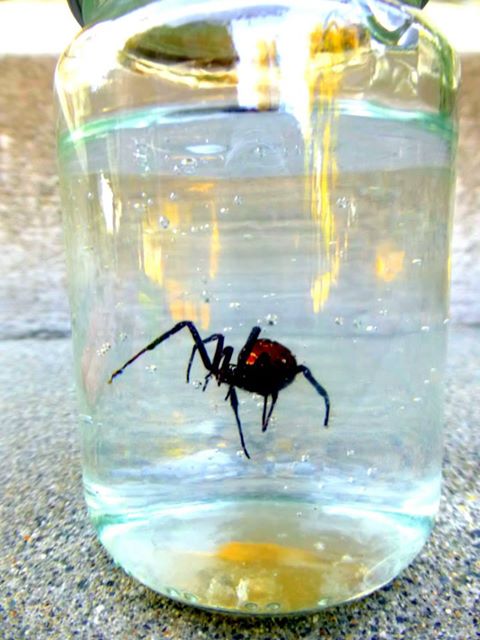 Above is one of Delightfully Demented Doll's curiosities, an immortalized Black Widow. I'm inspired by them, admittedly...

The Dolls of Despair is an all female horror site I founded. You can find most all of our material on our site, dollsofdespair.blogspot.com, plus there's ALWAYS stuff going down on our FaceBook Pagehttps://www.facebook.com/DollsofDespair, plus I was running our Twitter account, @tdollsofdespair, plus tumblr and Pinterest as Splatter Flick Chick, all of which have been neglected greatly the past few months due to my fast deteriorating health.





I've all but taken a 'leave of absence' due to my Lupus/MS/Parkinson's like symptoms and little seizures my Mom SWORE she kept catching me having the past few days she was here (my lil sis had them until she was 16 for other complicated health reasons; Mom was also a special ed teacher for many years). Since I just spent 48 hours in St. V's hospital here in Indianapolis, and have been to the ER twice over the past few months, and NONE of the docs seems to 'get it', I MUST take charge of my own health and get SOME kind of answers and/or additional diagnosis!

It's maddening to watch your body slowly stop working right, but once your cognition is negatively affected, it's terrifying. YES, I am scared, but I am the baddest 'bitch' I know, hence I WILL keep believing, and searching and trying EVERYTHING in an attempt to get better than I am right now. I refuse to 'give up'!

HOW? Well, The Cleveland Clinic is THE BEST OPTION I have left to pursue. Imagine me, 20 years ago, with big hair buns on opposite sides of head saying "Cleveland Clinic-Mellen, you're my only hope", paraphrasing THE Princess in the original Star Wars Trilogy, because that IS what I'm hoping. I have to continue to find reasons to live, things to motivate me, 'work' in the indie dark arts, get back to my radio show, WHATEVER, to feel like I'm doing SOMETHING besides laying down and giving up, becoming a fat, poor, self pity filled drug addict. NOPE, not my style.

http://my.clevelandclinic.org/neurological_restoration/depression.aspx

Here is a link to where I am headed, just have to put all the wheels in motion, with the help of my docs, friends and family to get me admitted, NOT just seen for an appointment. This requires careful planning, cooperation from my medical providers (which is fast becoming a dream, especially give the recent Medicare changes this summer), cooperation from my friends who MIGHT be able to drive and or be my advocate, plus gas, housing for them (should teh clinic not have any available at the time) food, you know the deal. PLUS, I've not the insurance to even come CLOSE to covering what this trip will end up costing me.






Another photo I 'allowed' to be taken in July, acting all 'model silly', without my cane. I'll learn to accept that damn cane, a SMART DECISION on my part, as it can help my quality of life, but I've obviously a long way to go to full acceptance.

I've faith I can find the right people to help me make that exact thing happen. I need a FULL MRI on my head and neck and a spinal tap, at a minimum, although, if you reasearch just a tad, the link below, it's quite possible they'll do SO MUCH MORE. PLUS these docs run the hospital, not the other way around AND THEY WANT to work together, all manner of specialists, talking to each other, driven to find the root cause, coming to YOU, not the same old usual song and dance I've been living. Mayo, Cleveland and the like WANT TO HELP you, not simply mask symptoms by further attempting to poison me with Big Pharma toxins. THEY ARE ROOT CAUSE FACILITIES that employ only the BEST OF THE BEST. If I have to take more meds, so be it. I WAS on 15 pills a day at one point, and for various reasons, am down to 5 meds now. I prefer "Jamie's Remedies" to toxic waste 'pills' any day!




This horrible quality lil photo always reminds me of why the Dolls of Despair was created. Without the Dolls, I'd not even be typing this to you right now, as HELPING OTHERS IS what keeps me going everyday. I can't even do that anymore, until I get to Cleveland Clinic, as my health has deteriorated, especially my cognitive functions, so fast in the past 6 weeks, I'm flabbergasted, as is everyone who hears me who hasn't talked to me since

http

So, we Dolls already have quite a few interested indie artists on board to donate indie art for us Dolls of Despair to 'auction' off to help raise futher money for my fast approaching trip. I HOPE to be on the road by no later than mid-next week, but ANY MONEY, or indie art product, or spreading the word, anything you might want to donate, including your time, sharing a link to this important project, is VERY MUCH APPRECIATED! Claire "Fluff" Llewellyn is donating all proceeds from her first Chicago based, indie short film festival, the Short Bus to Insanity Film Festival! Here's a link, below, to the last Dolls Radio show Fluff was on, talking all about her festival, just recently.

http://dollsofdespair.blogspot.com/2013/08/dolls-radio-hosts-filmmaker-claire.html

Now for a scary pic of me less than 48 hours after my first brain surgery, last year, in May of 2012. NOT sexy, VERY disturbing, but you get a feel for what I've been through since no longer being able to work in mid '09. I had my second brain surgery done on the LEFT side in September last year, right after I interviewed Lance Hanriksen at HHW in Indy!

http://dollsofdespair.blogspot.com/2012/07/after-brain-surgery-1.html?q=after+brain+surgery

Please contact Delightfully Demented Doll, Debi Ann, on Facebook, or follow her FB pages, and the Dolls FB page, for consistent updates on the Dolls and me.

https://www.facebook.com/Deadcreepydolls LOTS of creepy stuff
https://www.facebook.com/SurrealisticLowbrowArtist visual art pg
https://www.facebook.com/surrealismrocks?fref=ts --> Debi's FB pg.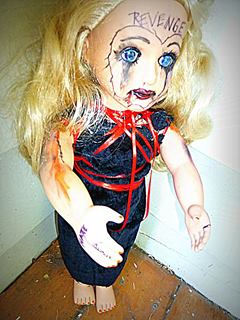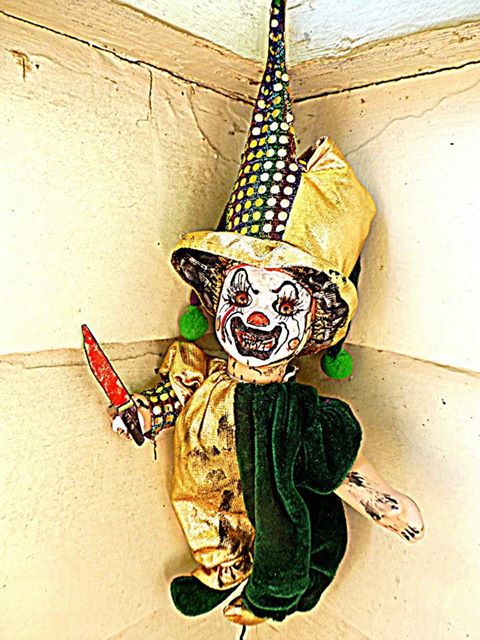 Debi is auctioning off a few of her KILLER Dead Creepy Dolls to help raise funds. Just hit one of her pages, or the Dolls FB Page to see the deets, the pics of the dolls she picked to auction to help raise money to get me to Cleveland OH. Here's a few pics of a few of the dolls that I just ADORE! These pictures may not be what she chooses to auction, but you at least should get a lil' idea of what types of dark dolls she's been making, like mad, the past few months!

Here's a link to one of the many vlog entries I did after one of the two brain aneurism surgeries (open craniotomy, the whole enchilada, 7.5 hours right side in May, 4.5 hours on the left side of my skull 3 months later, in 9/12). I've now had "officially" 14 surgeries since I was 25. I'm sick :(

http://dollsofdespair.blogspot.com/2013/02/happy-one-year-anniversary-dolls-of.html?q=brain+surgery

Convention and Film Festival coverage is key to meeting new people in the biz and building relationships with those we already know. The Dolls will expand their coverage of such events, filming video interviews with guest stars and attendees, scheduling interviews for Dolls Radio on theFearCast Network, and any other tasks that help support and market those working in the independent horror genre, whether I am around or not, once well trained by me ;) It's what I've found and am best at being as sick as I am, but I can't go ANYWHERE, can't even drive my own damn truck, right now. SO, if you haven't met me yet, and want to partner with the Dolls (and you should want to, I've great references; just check out my REAL NAME Linked-In page: http://www.linkedin.com/profile/view?id=170779573&;trk=nav_responsive_tab_profile) and read the recommendations I amassed after sending out only one mass mailing asking for them, from those I've worked with, at that time, so I think it was early Spring or so...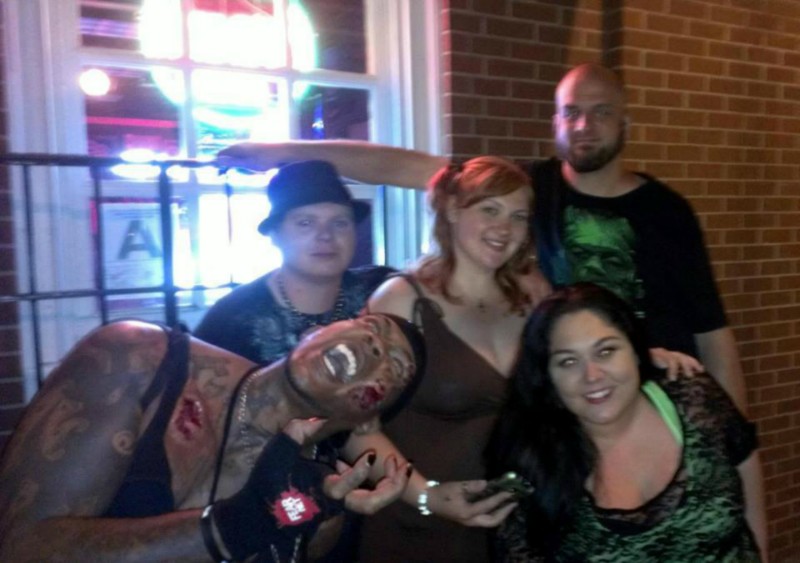 WISH I had remembered to ask these fine people (one of which is Dolls Zombella Gorejena) to include me a photo from this fun night, earlier this summer! I've so many great friends! Identify yourselves (those in the above pic) as I'm learning all this the hardest way possibleI! I'll be sure to keep adding pics, as I get permission, and TONS of updates, to keep ya'll coming back to see what's new!

The Dolls of Despair are growing, and we've helped many market their products to fans of indie horror and dark art. I foresee plenty more networking and business partnerships being built, better live coverage of horror conventions and film festivals to be done by more than just me, and continued popularity of the Dolls site and Dolls Radio; all attainable goals, with your help and my determination.

Lastly, I've found the Dolls of Despair and ideal platform for female fans of horror to have a voice. We work in the genre, we make dark art, we have purchasing power, and we will continue to build our following. We are the voice of gals who love dark art/horror. The Dolls aspire to be one of the more influential woman owned and operated, indie horror sites, providing you with PR, articles, reviews, and our most popular feature, the Delicious Dude of the Week, featuring HOT GUYS in horror! The opening photo is one of Raz and I; he's one of our more recent, lesser known indie horror hotties.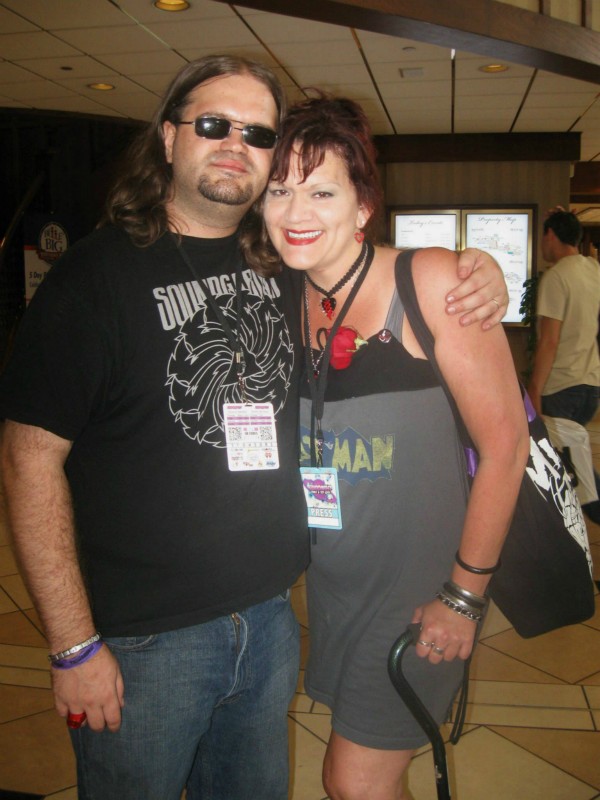 The Dolls appreciate all your support to help me get well in order for us to continue our exponential growth cycles. We know how difficult is to just get by day-to-day in this world; honestly, as most cannot even pay their own bills, let alone read yet ANOTHER campaign begging for money. I know those of you who see this campaign, have worked with us, are scheduled to, or ARE already, or simply enjoy what we Dolls do, will at the very least share it around! You know, support also consists of following the Dolls social networking sites, reading our posts, sharing our work, partnering with us for Features, hiring us for Press or Marketing services, there are so many examples of how you help us help YOU!

I just need to get better, and all I've been doing, since May '09, is continue to get sicker and sicker. If you can throw my campaign a few bucks, AWESOME, or maybe you'll share our campaign or talk to someone about it, it's all goodness. Please help us continue to spread the love we Dolls continuously give the indie, dark art community by helping me gather as much $$ as possible to rent, and keep gassed up, from Indianapolis, IN to Cleveland, OH ('bout 5.5 hour trip, one way) a comfortable SUV (my body pain is bouncing around in the 7-10 pain scale and I DO NOT make long trips anymore unless I HAVE NO OTHER CHOICE, as they 'tear me up', and once I reach my destination, I'm already all used up and in a wicked pain flare. I have to pay a driver and pay a damn good advocate, since it's hard to understand what I try to say. WIthout an advocate, I've been mistreated every single time I've been taken to ANY ER alone, and the last 3 times I've been admitted (even with my own mother there, as much as she could be)!

So much has occurred recently, I could write a book to include the true horrors of medicine and doctors including the horrors patients like myself are forced to go through. Suffice it to say, I am having an extremely difficult time right now, and I need to go from the "deconstruction of Jamie" to the rebuilding of Jamie! NEED YOUR HELP PLEASE!

MUCH LOVE TO ALL THE DOLLS OF DESPAIR FOLLWERS, my friends and family, anyone who reads this and shares it, or can donate! Please tell your friends to share this. PLEASE help me at least get better than I am now, as it's abundantly clear, even to some of specialists as of today, why I cannot get good care ANYWHERE in Indy. I'm a mystery case from hell, given the constellation of symptoms, and a new one showed today that has some friends and family screaming Lupus! This nasty red, blistery rash on my precious left breast:( Can't ANY part of me escape my fast failing health, due to 'who knows what'? FINALLY, in closing, I cannot thank ALL OF YOU enough for all you've done, may do, or for simply reading this, for all of you and all that you do DOES matter...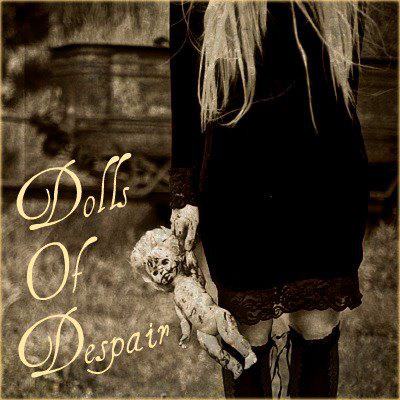 D
|
Post a Comment
|
15 References
|